While fly fishing Manzanita Lake, that heartbreaking moment when a sight-fished trout "outsmarts" us is fortunately also an educational one. The immediate feedback of an observed refusal lets us know that, from the trouts perspective, something is wrong. Therefore, we can get to work solving the problem by trying other flies, tactics and techniques and watching how the trout respond. Fly fishing is problem solving, and it's exciting! This is one of the reasons I have always loved fly fishing Manzanita Lake in Lassen National Volcanic Park. With its large flats, clear water and cruising rainbow and brown trout, the lake offers plenty of educational opportunities to observe the behavior of fish eating (or not eating) our fly. And once it's figured out… fish on! Lesson learned. And it seems I learn at least one lesson every time I visit here.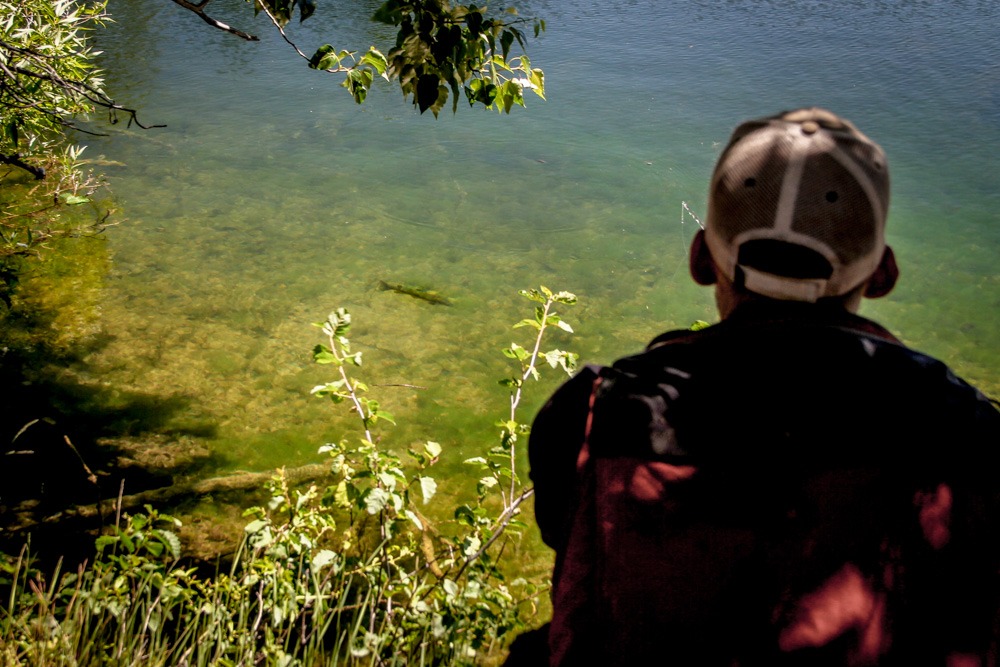 Manzanita Lake is a fabulous sight-fishing destination in Northern California. Rainbow and brown trout cruise the edges and flats of the lake looking for a variety of aquatic and terrestrial insects. The Manzanita Lake trail loop skirts much of the lake's edge and is popular with visitors. This helps desensitize the trout slightly by showing them plenty of non-threatening humans and consequently makes it a little easier to get close to these fish. While these fish aren't particularly spooky, they definitely aren't stupid and a careful approach is still required. Even more important for success, being that this is a relatively popular fishery, is fly selection and especially presentation. If your fly isn't acting just like the naturals the fish are going to cruise right by without a sideways glance. I've seen fish refuse a slowly sinking fly, just to come back and inhale the same fly without a second thought as it's ascending on the retrieve. Being that the situation is so observable, your failure can become a successful learning experience instead of just a nice day enjoying the pleasant view of Mt. Lassen.


Sometimes, if the lake has been fished hard or has seen a lot of recreational use, the fish seem to get spooked off of the flats. If this is the case and you are committed to wade fishing, success can still be had by concentrating on the drop off areas and suspending nymphs from an indicator or slowly retrieving nymphs or stripping leaches without an indicator or with a sinking line. However, the lake also fishes well by boat or float tube and the fact that no motors (including electric) are allowed make for a peaceful setting with no wakes, and a watercraft does open up a lot of water.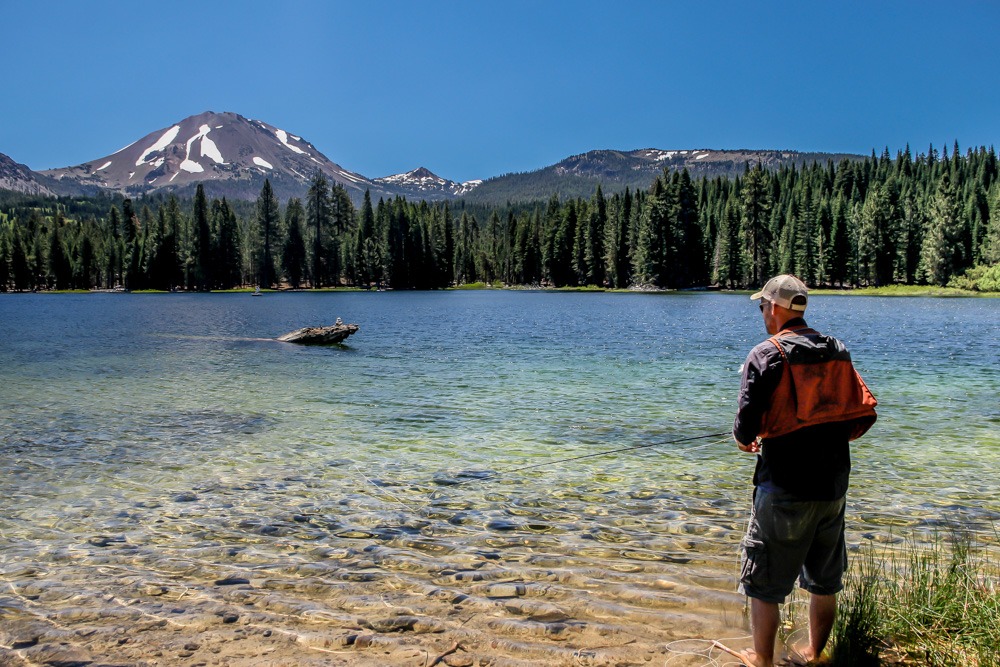 While the fish are well educated on Manzanita Lake fly selection is actually pretty straightforward.  70% of the time I'm there I'm fishing midge pupa, callibaetis nymphs (and hopefully dries) or damsel fly nymphs. If you're getting refusals or no activity with these and can't easily see what the fish are feeding on, stop fishing for a bit and watch a fish to see how it's behaving, or closely study the surface of the water to see what's going on down there. Likely culprits include terrestrials such as ants and beetles blown in from the trees. While I'm generally fishing nymphs, Manzanita Lake has some great dry fly fishing opportunities as well. It is also productive to strip nymph and leech patterns as well as wooly buggers in black, brown and olive to imitate the large dragonfly nymphs in the lake.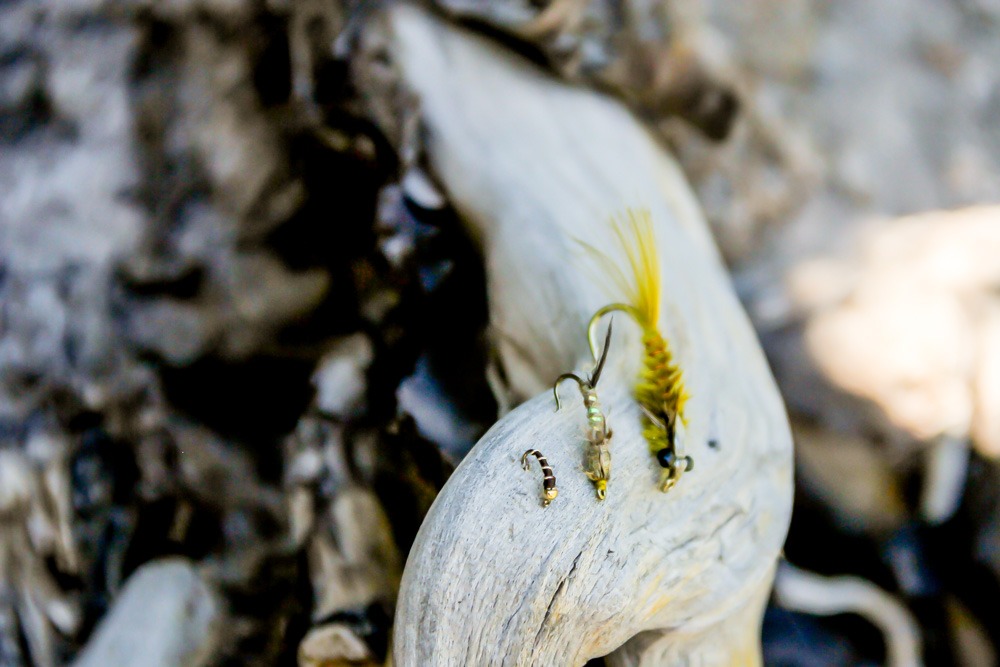 Typically, a floating line with a 9-12 ft. leader tapered down to 5x works well. Most the nymphs are either not weighted or only slightly weighted as the fish targeted by sight are in very shallow water, so it doesn't have to sink much. Plus, I want the fly to land with as little splash as possible to avoid spooking the fish.
For access, park in the pullouts just past the park entrance and work your way around the lake in a counter clockwise route, and retrace your steps to sight-fish the way back once reaching the point where the trail leaves the water near the parking lot on the far side (also a good point to get started in the opposite direction). The boat launch is located at the parking lot on the South-East side of the lake.
At an elevation of 5,900 feet, the lake freezes over in the Winter but is usually good to fish from May through October. Additional information and fly suggestions can be had by swinging by The Fly Shop in Redding on your way up.
Manzanita Lake offers some of the best sight-fly fishing opportunities in Northern California and it's very convenient to stay close by with Manzanita Lake Campground located just up the road. That, combined with all the other recreation this area has to offer makes it a great family-friendly fishing trip.