Why River's Edge Properties?
We focus exclusively on connecting sellers and buyers of waterfront property in Northern California.
Testimonials from buyer and seller of same transaction.
Dan, I want to thank you for all your help with my purchase of 99 Dredger Lane. Your help connecting me to all the local services was invaluable and saved me several long trips from San Francisco. Your negotiating skills helped bring me and the seller to a quick and reasonable close that I thought was fair for both sides. You were very professional and patient with me throughout and really helped guide me through the entire process which was all new to me being a first time buyer. Again, thank you for all your help!
Dan, I want to thank you for your very professional work listing our property and managing the sale. You kept all parties informed during the process, and most important, demonstrated creative approaches when price negotiations reached a challenging point. It was a pleasure working with you and I wish you the best of luck in your professional career.
Humans are drawn to water. We at River's Edge Properties are borderline obsessive about spending time on the water and that is why we do what we do! It's our passion!
While we advertise through the traditional channels most agents utilize (MLS, realtor.com, Zillow, Trulia, etc.), we have developed a unique and comprehensive marketing strategy designed to reach waterfront property enthusiasts wherever they live – most often that is not in our immediate geographical region. Northern California is a recreational paradise offering an extremely high quality of life, year round. Our advertising and this website are designed to help further inform people of that fact, and show the amazing beauty and recreation available to us in our backyard. We reach people that identify with this, wherever they live.
Through a combination of highly targeted online, print and proprietary advertising outlets, we target buyers all over the nation, with a focus on those in California. Below is a chart of our website analytics depicting where online searches in California begin by location (where a potential buyer online lives). The shade and size of each bubble indicates individual buyer search density from that area.
We find out of area buyers!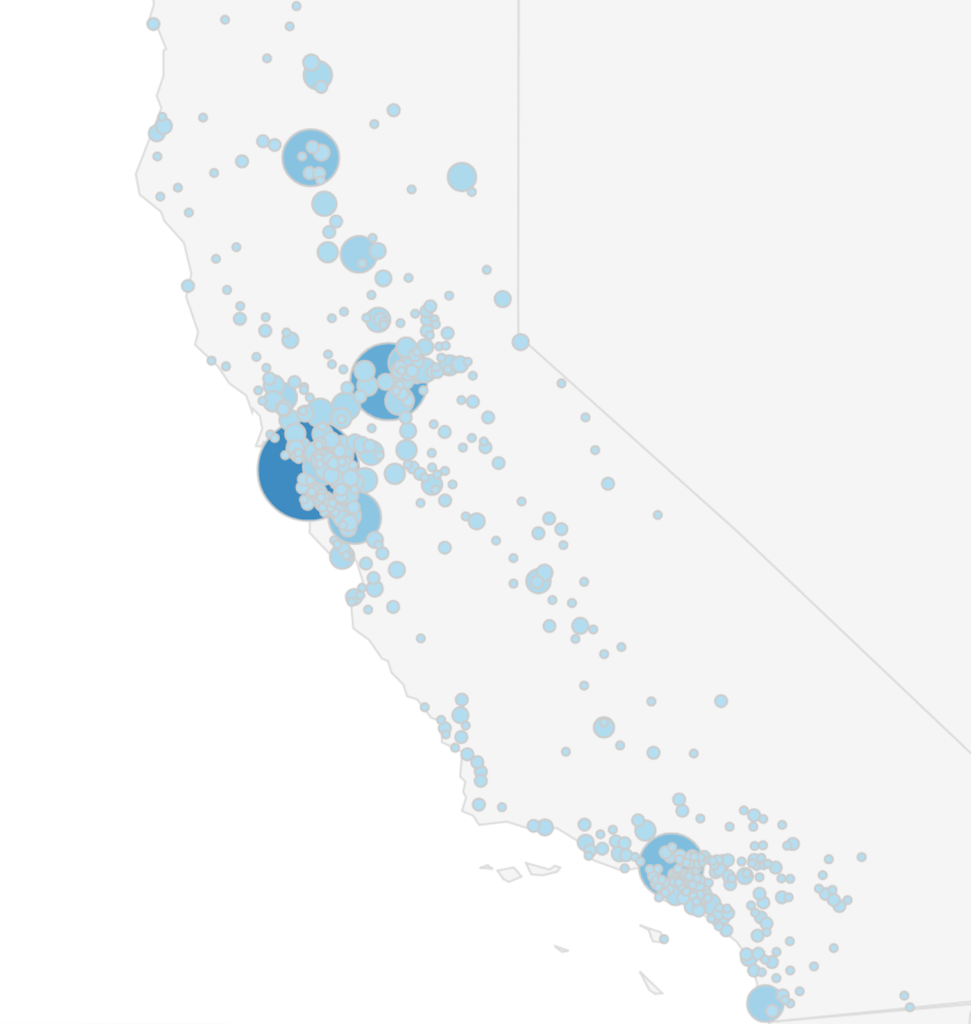 We focus on finding buyers who identify with the special lifestyle owning a property like yours presents, and who recognize the increased inherent value these properties hold. Being avid and highly experienced fly fishers ourselves, our extensive knowledge of Northern California's recreation provides us the ability to have very real conversations with these buyers relating to their needs and expectations.
Contact us to set up a consultation and free market analysis of your property. We would love to show you why River's Edge Properties is the best fit for your goals.
A Division of Shasta Land Services, Inc.
358 Hartnell Ave, Suit C
Redding CA 96002
(530) 221-8100
BRE# 01775146